"THUNDER II IS IN TROUBLE"
Our softy Yuma volunteer and Good Samaritan Cyndi seems to have a direct line to the walking wounded and has managed to find yet another in desperate need of our help.
Thunder was hit by a car--details unknown. He was temporarily fixed up at a Yuma Animal Hospital and because he had a collar and ID, his owners were contacted. They would not even SEE HIM! They wanted no part of the expenses thus far incurred ($695.00) and signed him over to the small Humane Society shelter there.
The vet in Yuma said he must have surgery within five days..that was two days ago..giving us little time to act. There are no orthopedists that can handle his case in Yuma. Thunder has several broken bones in his foot and a huge laceration across his chest requiring a drain. We don't know if his bones were crushed, or if his leg is salvageable. He has an appointment with a specialist in Gilbert for the morning of May 17th (tomorrow). Cyndi will drive him all the way from Yuma for his appointment and we will meet her there to see if surgery is an option.
Throughout his ordeal, Thunder has been a sweet and cooperative patient showing no aggression or anxiety; he's a real trooper. His owners said he was around two years old but we think he's at least five. Or he's had a less than cushy existence and seems older than he is.
Here's what's needed: donations towards his travel, consult and probable surgery or possible amputation. A foster home in Phoenix where he can recuperate as of Friday. Thunder will spend overnight at the hospital here following his surgery. We have to pick him up on Friday and either place him in a foster home that can tend to his post-op needs, or he will return to Yuma with Cyndi but only on a very temporary basis. Please click on the walking GSD if you can help Thunder (via Paypal)
Checks made payable to SOUTHWEST GERMAN SHEPHERD RESCUE (SWGSDR) may be mailed to:
Southwest GSD Rescue
3114 W. Los Gatos Drive
Phoenix, AZ 85027-1608


What a face!
UPDATE 5/17: Our boy arrived at Arizona Veterinary Specialists this morning obviously in a great deal of pain.
HEY THUNDER, WE'RE HERE

UH-UH I'M NOT GOING TO NO HOSPITAL ...

...OK, IF YOU SAY SO, LET'S GO
After an exam and reviewing his films, Dr. Dixon felt that the bone in his foot was too shattered and small to do a pin fixation and opted to reduce and cast it with an estimated recovery time of five weeks with weekly bandage changes. We had both noted how sore and lethargic he seemed and learned from his intake notes at the Humane Society that the hole in Thunder's chest had been bleeding profusely, so he had taken a pretty good whack to that area. This and some difficulty relieving himself led us to check for internal injuries as well.
Chest X-rays indicated no broken ribs so an ultra sound was ordered. It revealed no trauma to his internal organs related to the accident; however, a preexisting condition of bladder stones was apparent. Thunder was catheterized and flushed and we're hoping that with a diet change they might dissolve or pass. If not, they could cause an obstruction in his urethra which would require surgical intervention. We will be watching him carefully and keeping our fingers crossed.
We all feel that Thunder is younger than he looks and that he'd been an outside dog. We think he's around four years old. His teeth are in pretty good shape but his coat along his back appears to be sun bleached.
He weighed in at a hefty 105 and a half pounds! He's definitely out of American show lines with a soft, kind and laid back temperament...a real gem. He offered no resistance during his transport or exam yet was in considerable discomfort.
We did discover a few other scrapes and bruises on the opposite side of his injured foot so he's undoubtedly very sore.
We were hoping to have had a foster family come forward so we could keep an eye on him in Phoenix but that has not occurred so back to Yuma he goes. Cyndi has returned to work and cannot watch him most of the day; she will take care of him for the short term but we must locate someone here to foster him.
Thunder doesn't require much..,just needs to be kept quiet while he heals. His only meds are an antibiotic, anti-inflammatory and pain pills until they're gone. He will be finished with his antibiotics in a few days.
Thunder will have weekly follow up visits in Yuma, so the bills keep mounting. Without any bladder stone issues down the road and sans follow up, the charge for today was $1,253.00
Any help is very much needed and greatly appreciated.
THANK YOU!!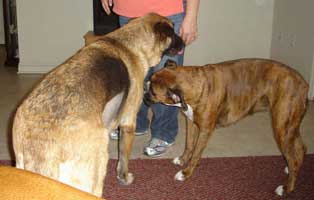 Thunder's new nurse checks his wound
UPDATE 5/20: Thunder was moved last night to a foster home in Yuma where he can be watched more closely. He is sharing his temporary quarters with two Boxers with whom he is doing fine and happily sleeping in his "Mom's" bedroom at night. The female Boxer is licking and tending to his wounds, obviously aware that he's a bit under the weather.
Thunder has a vet appointment in Yuma tomorrow (Monday) to have his drain removed. He will be visiting the vet there at least once a week.
We should have the results of the urinalysis and culture done in Phoenix by Monday or Tuesday. This should serve to identify the type of stones he has which will determine his course of treatment and possible prognosis. Meanwhile he must be watched for signs of a blockage which would require emergency abdominal surgery.
We are expecting new photos soon. We would like to extend our sincere thanks to those helping with Thunder's expenses. We still have a long way to go; any and all help is so very much appreciated.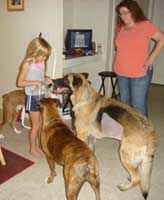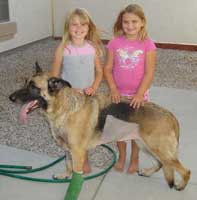 A family kinda guy for sure

A very happy boy
UPDATE 5/21: Our boy visited the vet today, had his drain removed and was also found to have an ear infection for which he was treated. He left with a new RX and will be paying another visit later this week to have his splint changed. We do not receive any rescue discounts from the vet in Yuma, so the sooner we get him closer, to both our vet and his orthopedist, the better. A Phoenix foster has not yet materialized; we're still hoping.
Meanwhile, it's easy to see this guy is in his element with kids and in a family setting. Our thanks to Sheli and her girls for taking care of Thunder. He's a real Velcro dog and follows his Mom everywhere, always wanting to be near people. One can't help but wonder how anyone could abandon this gentle giant, especially when bloody and broken. Now if we could just get him to eat.
UPDATE 5/25: Mr. T is off all medication save for his ear prescription, so his appetite has returned. He's eating fine and feeling more spunky; his personality is starting to shine.
The result of his urinalysis did not serve to identify the cause of his bladder stones but did reveal that there is no infection or inflammation associated with them. We're going to guess, for now, that it's water related so he is on strictly bottled or distilled water.
It's back to the vet tomorrow for a bandage change. Once his leg and chest are healed, another ultra sound will tell us if surgery is necessary to remove the stones; we're keeping our fingers crossed..don't want to go there. In addition to the pain and healing, the cost would be several thousand dollarsand we still have five more weeks of vet visits. Let's all wish Thunder's bladder stones away!
We did manage to get some answers from Thunder's former owners and our suspicions were confirmed; he's a little over three years old. Most everything else we had already figured out: he's housebroken, does well when left alone, friendly and oddly enough, was living with a Boxer! He's good with children but hasn't had much exposure to toddlers. He knows some basics but has not had any formal training. He was walked and is fairly well socialized. They said he was an inside dog but also said that they had no idea how or when he wandered off. Their loss, our gain...he's a doll.
UPDATE 5/29 - This was Cyndi's report on Thunder's visit to the vet in Yuma today:
"Thunder is an excellent dog. Sat in the waiting room and watched all the activity without making a sound. A bulldog and a 14 month old German Shepherd kept getting in his business sniffing and smelling him and his wounds and Thunder just let them. He was really excited to see me--recognized me right away and actually gave me kisses.
"Just yesterday Sheli said his chest wound was looking good but when she got home from work today it was 'puffy.' He finished with his antibiotics days ago. Doctor Don decided to leave the stitches in and put him on another round of antibiotics. What a sweet boy-he laid on his side the entire time and let Doctor Don take off his bandaging and let the tech hold onto him. Doctor Don looked at the CD first so he was knowledgeable of the breaks.
"Thunder did have an oozing wound (about the size of a quarter) on his foot that I don't remember being there from the accident. It was in the same place a 'corn' would be on persons little toe. Doc said it could be from rubbing. He cleaned his foot thoroughly and put some sort of powder on the wound. Rewrapped it with lots of padding."
If all goes according to plan, Thunder will be transported to Phoenix to his new foster family by this coming weekend.
UPDATE 6/2: Thunder arrived in Phoenix on Thursday; many thanks to the Smith family! His foot seems to really be bothering him and he still has some fluid build up in his chest, so back to the vet he goes this coming week. He's still being watched for any signs of blockage when he relieves himself as that would constitute an emergency.
Mr. T, as we call him, does not want to chill out in his crate, so keeping him off the foot has been a real challenge. Right now, what he wants most is to be near his humans at all times.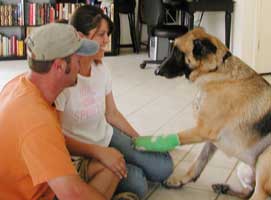 THUNDER BEING HIS ADORABLE SELF, SHOWING STACEY & DEAN HIS BOO BOO...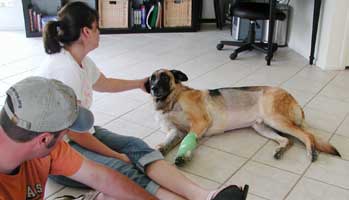 ...AND SETTLING FOR AN EAR RUB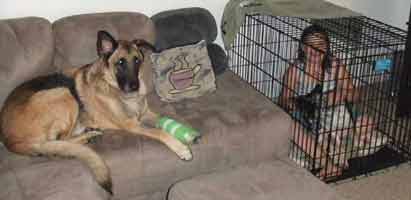 Perfect! This is just the way Thunder thinks it should be; kid & puppy in the crate and.......
UPDATE 6/5: We had speculated that Thunder's pain and discomfort was probably coming more from the sore on his foot than from his fractures. His trip to our vet today confirmed a bad infection. Unfortunately, it's a Catch-22 situation; inside that bandage is a nice warm, dark and moist environment in which such bacteria will flourish. One sniff and the odor was very telling.
We also found some sharp edges on his casting material which probably caused the rubbing sore to form in the first place. Dr. Hutch covered and padded the splint and did a wonderful job of re-bandaging. Unfortunately, tending to his infection will now require bandage changes twice a week. Thank heavens Mr. T is the perfect patient..otherwise this could be a lot more difficult for all. The sutures were removed from his chest today as well and that's doing very nicely. While it's too early for new X-rays, we are speculating that his bone is healing well too and the sore is the challenge for now. His nails were trimmed and we'll be back to do it again next Monday. MR.T now has standing vet appointments every Monday and Friday.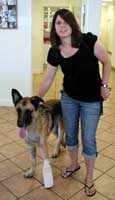 LET'S GET OUTTA HERE, MOM!
Our boy has taken to chasing the puppy around; obviously feeling his oats.

When he didn't relieve himself first thing in the morning this week, we went into standby mode in the ready to rush him to our emergency vet. He later showed us he was OK, but we've decided to go ahead and X-ray his bladder on Monday, several weeks earlier than recommended, just to be sure and see what's happening with his stones.
UPDATE 6/11: Good news; our boy is such a mellow-head that he did not even require sedation for his X-rays today. Better still, there was no evidence of stones on the film! Now X-ray is not as sensitive as ultra sound, however, whatever is there is small enough not to cause concern for now....YAY!! We did place a call to Dr. Dixon to confirm whether or not we can consider these results conclusive, but he was not in...stay tuned.
The wound on his foot, surprisingly, has not gotten any worse and even improved slightly. It's still oozing and he's continuing his course of antibiotics, but it's not as bad as last week. Thunder's next appointment is this Friday at which time we will remove his casting material and he goes to a soft bandage for his foot. This will also allow the wound to heal better. After two more weeks, his foot will be X-rayed to see if his fractures have knitted. If Thunder continues to progress as this rate, he will be ready for adoption to some very lucky someone by the end of the month!
Each vet visit and procedure adds to his total expenses; we could not have been as proactive without your support for which we are very thankful. Hopefully, with a little more help, we can see the finish line!
UPDATE 6/15: Thunder's bandage change today revealed another new rub sore, on his leg...thankfully, not infected or raw. The one on his foot has gotten smaller. Fortunately his splint was removed today, so the rubbing will be substantially reduced and healing should be faster now.
Thunder is limping much more without his casting material and holding up his foot ; we'll give it the weekend to settle down and if there's no improvement, he'll be getting X-rayed and examined by the orthopedist as soon as we can get an appointment. We did speak with the specialist about the stones and he did say that there is a type of stone that cannot be seen on X-ray but shows up un ultra sound because of their density; he agreed, however, that for now, we should assume that Thunder might have passed or dissolved the stones he had, and just watch for any signs.
You all did a great job wishing Mr. T's bladder stones away..now we need your wishes for his fractures to heal. He is such an endearing creature..he makes it so easy to care about him.
UPDATE 6/20: The limping subsided as expected and Thunder will have an exam and bandage change on Friday 6/22. His wrap is expected to be removed entirely on Friday, June 29th. We will watch his progress and ability to ambulate without any support in the days following. If we think there's a problem, it's back to the orthopedist and new X-rays. For now, enjoy the antics of this wonderful fur kid!
| | |
| --- | --- |
| CHEER UP THUNDER! | MR. T NURTURING HIS FRIENDS |
Please click on the walking GSD if you can help Thunder (via Paypal)

Checks made payable to SOUTHWEST GERMAN SHEPHERD RESCUE (SWGSDR) may be mailed to:
Southwest GSD Rescue
3114 W. Los Gatos Drive
Phoenix, AZ 85027-1608


Look Ma...no cast!

At his last Friday appointment our vet felt it was OK to remove all of Thunder's dressings this week instead of next. His rub sores are healing very well and we'll be watching his foot action. We'll also be testing him going up on a few carpeted steps next week to see how much weight he can bear, and we will probably X-ray his foot at the end of this week. We're keeping our fingers crossed that Mr. T is mended!
| | |
| --- | --- |
| Thunder's foot & leg sores almost healed | Swollen left foot |
Mr. T was still favoring his broken foot and it was quite swollen; we've been icing it and frankly, we've never seen such a cooperative patient...any other dog would have simply taken leave of the ice bag!
We X-rayed on Wednesday, June 27th. On Thursday, all of his films from his first day of treatment to now (3 sets) were given to one of his surgeons, Dr. Bone of SW Veterinary Referral Center, to review. We are awaiting his call regarding the prognosis for Thunder's foot ...are we finished or is there more to be done?
SATURDAY: DR. BONE called and said it looked as though he was healing well. His activity level, however, MUST BE RESTRICTED for the next two weeks...no running, jumping, etc....he said it's best to take him out in the yard on a leash if need be (or he will run ;-). Now if we could just get Thunder to comply! So....if we can just keep him from over doing it for a while longer, he'll be hitting the finish line!
Barring any unforeseen set backs with his foot, Thunder will be available to be shown as of the weekend of July 7th.
We wish to thank all of Thunder's Angels without whom we could not have done all that was needed. Right now, assuming that we don't have to do another ultrasound or another procedure on his foot, his expenses are covered.
UPDATE 7/22: It appears that our Mr. T is starting to show his true colors; his interest and curiosity with respect to the tortoise has progressed to flipping him over and pushing the turtle with his nose. He has also become more aware of and wanting to play with or chase the cat. In essence, Thunder is behaving like a typical German Shepherd! He's all better now.
PLEASE CONTACT US IF YOU CAN HELP THIS DESERVING FUR KID IN ANY WAY
623-516-2880 Email Steff at SWGSDRESCUE@AOL.com